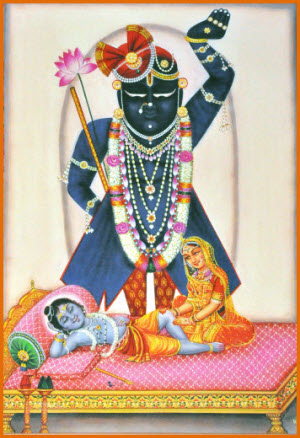 Final Darshana of the day commences only after rasoiya boli, when the priest ascends the terrace of the haveli and calls out - Cook, come early the following day. After this, drumming heralds Darshana. Since it is time for Lord to retire, various eatables are offered to Shrinathji. A singer praises lord in his kiratana, which may take form of an expression of a beloved's emotion and is offered to both Shrinathji and Swaminiji. Paan-Beeda (betal leaves with spices) are again offered to him.
As Shrinathji is about to retire for the night, various arrangements have to be made. His bed chameber is readied for him, with a container of food, a pitcher of drinking water and Paan-Beedas. It is supposed that Shri Radha will join him during the night, her garments and jewels too are kept in readiness.
A carpet is spread on the ground leads from the image of Shrinathji to his bed chamber. It is presumed that he will walk on it in his spiritual, subtle form. The wooden platforms places in Doltibari for the devotees to stand on during darshanas are removed. This ensures that Shrinathji does not encounter any obstacles at night. To enjoy his lilas with his beloved gopis, if he desires the canopies stretched over the open courtyards to protect people from the scorching afternoon sun are also removed. This darshana is usually not held for the six months, from Chaitra Shukla 1 to Ashvin Shukla 9, when Shrinathji is suppose to visit Vraja and reveal himself to the Vrajavasis(residents of vraja).
The chief singer of this darshana is Krishanadas.